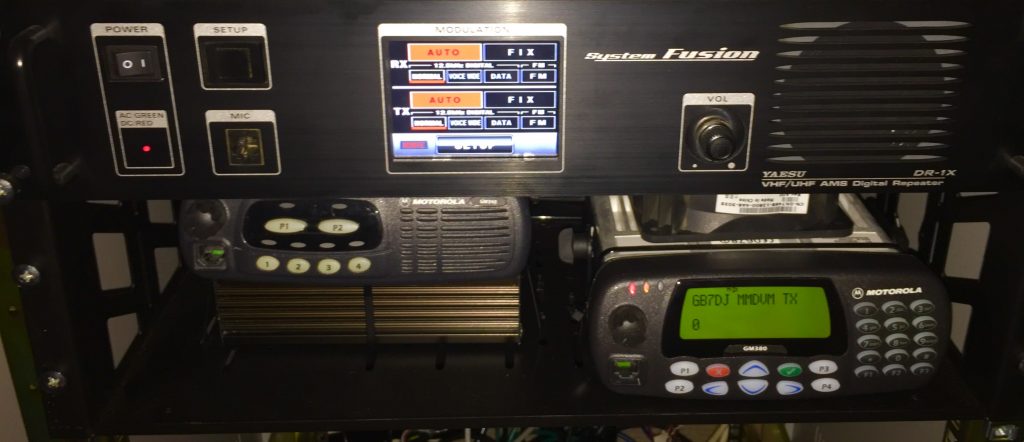 MMDVM Monitor for GB7DJ
Link to DMR Slot 1 Traffic on GB7DJ
Slot1: https://hose.brandmeister.network/23520/
Slot2: https://hose.brandmeister.network/23526/
Repeater Summary Details for GB7DJ
Keeper/NoV holder: Stuart Jackson [M0WTX]
Band: 70CM ( DVU53) Output frequency: 439.6625MHz RX Frequency: 430.6625MHz
Mode: DMR DIGITAL VOICE REPEATER DMR Colour Code: 3 Connectivity: BRANDMEISTER
ETCC Region: North-West
Location/Whereabouts: Northwich
Date of NoV Issue: 11 May 2016
CURRENT STATUS: OPERATIONAL
***********************************************************************
DMR repeater for the Northwich area,
connected to the UK BrandMeister Network.
The purpose of the repeater is to provide a central meeting place
for anyone in or around the Northwich area to experiment or make
make contacts using DMR.
Basic code plug settings for GB7DJ
GB7DJ (local)
Local
GB7DJ
Local
Network Reflector (4400)
Parrot Test
Reflector Status
Rx=439.6625
Rx=439.6625
Rx=439.6625
Rx=439.6625
Rx=439.6625
Tx=430.6625
Tx=430.6625
Tx=430.6625
Tx=430.6625
Tx=430.6625
Colour Code=3
CC=3
CC=3
CC=3
CC=3
Slot=1
Slot=1
Slot=2
Slot=1
Slot=2
Talk Group=10
TG=23520
TG=9
Private call=9990
Private call=5000
Slot 1, TG10 is local through GB7DJ only. Call local
Slot 1, TG23520
Slot 2, TG9 is linked to the HUBNET (click to listen)' Call anyone
If you have a DV4mini or DMR hotspot you can connect to 4412 reflector to come out of GB7DJ(Northwich) Time slot 1 Listen by clicking here
Acceptable use 4400 Reflector:-
"It is acceptable to have short QSO's, please be considerate and polite and leave gaps
for others to join or make calls for people.
It is hoped users understand , it is not a "calling channel only" and we do not like to
hear people taking it upon themselves to prevent others enjoying brief QSO's on 4400.
The reflector system brings flexibility and you can link elsewhere at busy times.
Please enjoy the system be considerate at all times to others."
Brandmeister Slot 1 Link Talk Group 23520
GB7DJ is linked using reflector 4412 on Brandmeister
If using a DMR radio this would be TS1 TG23520
Click here to see who was last heard on GB7DJ (Northwich)
Or look up a user, change the call at the end, must be in CAPS…